Parent Organizations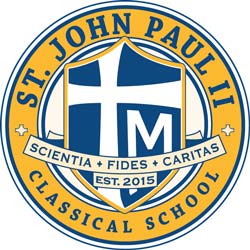 The Faith and Family Connection aims to foster the spiritual growth of our school families through faith, family, fun, feasts, and friendship!
Liturgical Living: assisting the SJPII staff and students in celebrating and growing in our Catholic faith

St. John Paul II Feast (Oct 22nd) Day Celebration: Oct 21st, 2022
All Saints Day: Nov 1, 2022
Vocation Awareness Kick Off: Nov 6-12, 2022
Epiphany Celebration: Jan 6, 2023
Catholic Schools Week: Jan 29 – Feb. 4, 2023
May Crowning: May 4, 2023
St. John Paul II Birthday Celebration: May 18, 2023
Contact Mr. Wolf for more information.
Parents in Prayer: leading our school families in prayer opportunities
Hospitality and Fellowship: hosting social events to help our families grow in solidarity and friendship in order to unite in the Catholic mission of SJPII Classical School

Presentation Days: Nov 21, Feb 23, TBA
Fine Arts Night: March 23 (lowers) and March 30 (uppers)
Atrium Adult Sessions: TBA
National Custodian Day: Oct. 2, 2022
Fall Conference Meals for Staff: Oct 25/27
Spring Conference Meals for Staff: March 2/ 3
Epiphany Parent Social: Jan. 7, 2023
Administrative Assistant Day: April 26, 2023
Headmaster Day: May 1, 2023
Teacher Appreciation Week: May 1-5, 2023
End of School Picnic/SJPII Birthday: May 18, 2023
Contact Mrs. Maggie Lovat for more information.
Site Advisory Council
The Site Advisory Council serves as an important parent and parish member body for feedback and consultation for the school's headmaster, the GRACE system president and GRACE trustees.  The council's primary responsibility is to meet site-based fundraising requirements. 
Monthly Meetings
Virtue Walk: Oct 14, 2022
GRACE Calendar Raffle: Fall 2022
Gala: April 28, 2023
Contact Mrs. Amanda Matczynski for more information.