Parent Organizations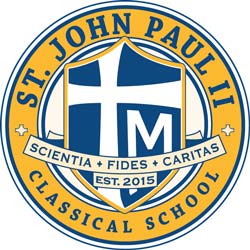 The Faith and Family Connection aims to foster the spiritual growth of our school family through faith, family, fun, feasts, and friendship!
Liturgical Living: assisting the SJPII staff and students in celebrating and growing in our Catholic faith

Celebration Creation Club 6th -8th grade ongoing
40 Days for Life prayer day Fall /Spring, contact: Mrs. Smith
St. John Paul II Feast Day Celebration, Oct 22 2021
All Saints Day, Nov 1 2021
Vocation Awareness Week, Nov. 7/13
Epiphany Celebration, Jan 6 2022
Catholic Schools Week, Jan 30 – Feb. 5 2022
Mardi Gras King Cake, Tues March 1 2022
Easter Celebration April 19, 2022
Rosary Making Party, May 2022
May Crowning, May 2022
St. John Paul II Birthday Celebration, May 19 2022
Contact Jen Budde at jamjanbudde@att.net for more information.
Parents in Prayer: leading our school families in prayer opportunities

Holy Rosary before school Masses
Monthly Divine Mercy Novena Chaplet, 3rd Friday of the month
Monthly Parent Prayer Group   
Accepting prayer requests: Please click here
Hospitality and Fellowship: hosting social events to help our families grow in solidarity and friendship in order to unite in the Christian mission of SJPII Classical School

Presentation Days, Music Concerts and Art Shows TBA
Parent Socials TBA
Atrium Adult Sessions TBA
National Custodian Day, Oct. 2 2021
Conference Meals for Staff, Oct 26/Oct 28 2021
Thanksgiving Feast, Tues Nov 23, 2021
Conference Meals for Staff, March 10/11 2022
Administrative Assistant Day, April 21 2022
Headmaster Day, May 1 2022
Teacher Appreciation Week, May 2-6 2022
Last Day of School Family Picnic
Contact Amanda Matczynski at mandyandmark09@gmail.com for more information.